CLIENT: Main Roads WA
TIMEFRAME: January 2013 – January 2014
VALUE: AUD$13 million
The successful delivery of completed works by Highway Construction has significantly improved traffic through-flow and user safety at the Murdoch Drive South Street intersection, located on the western side of the Kwinana Freeway's South Street exit.
The Murdoch Drive South Street intersection handles heavy traffic volumes on a daily basis (including heavy haulage vehicles accessing the Port of Fremantle) with traffic modelling predicting a rise to more than 50,000 vehicles per day by 2021.
The nearby Murdoch bus and train stations also deliver hundreds of pedestrians and cyclists daily, routinely crossing the intersection to access Murdoch University and College and the St John of God Hospital. This foot and cyclist traffic was also predicted to increase with the opening of Fiona Stanley Hospital and continuing development of the Murdoch Activity Centre.
Working in close collaboration with Main Roads WA, Highway Construction was responsible for all aspects of project delivery apart from the design.
This included heritage and community engagement management; traffic management; earthworks; traffic signalling; service relocation management; road resurfacing and landscaping.
Driven by Highways' experience and solution-orientated approach and supported by Main Roads expertise, the Project team was able to implement a mix of alternative construction methods, sophisticated project and program management and communication initiatives to overcome these issues and ensure a quality on time delivery.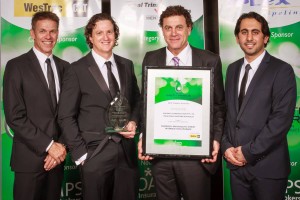 Awards and Accolades
The Murdoch Drive South Street project delivered by Highway Construction won a CCF (Civil Constructors Federation) Award for project delivery in the CCF Awards, 2014.