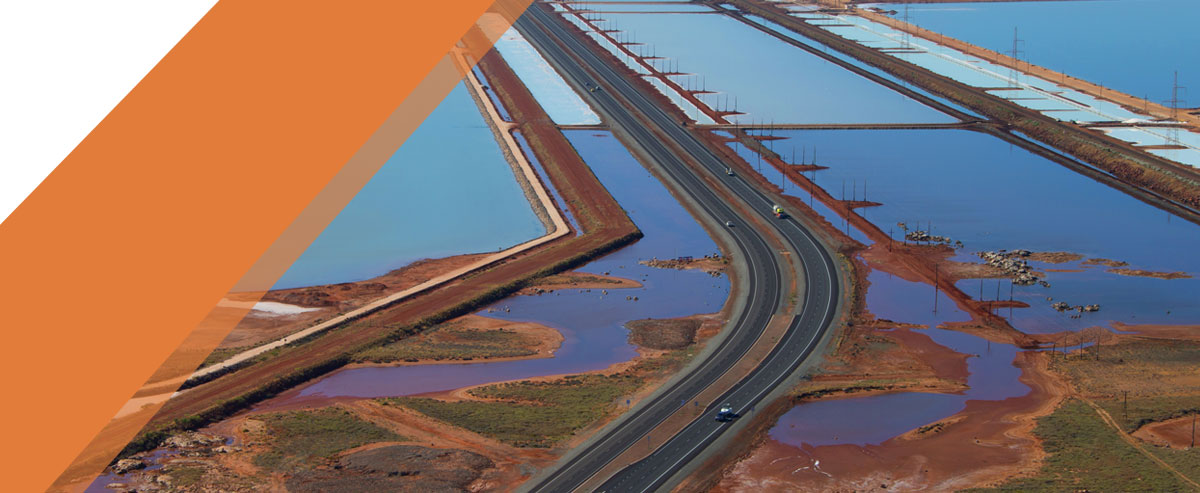 "Highway Construction is a CCF Award Winner and has been a finalist in the Engineering Excellence Awards."
Highway Construction's regional project delivery experience played a key role in the award of its first full design and construct contract, the Dampier Highway Duplication, delivered with joint venture partners Downer Works and Albem Operations in 2011.
A complex project characterised by its remote location in northwest Western Australia, the project relied heavily on Highway Construction's:
established local supply networks;
Aboriginal Heritage management expertise;
heavy haulage traffic management expertise;
rock blasting and extraction;
embankment earthworks;
pavement construction; and
utility asset detection and protection capabilities.
It also included the use of 20,000m2 of hand placed, high strength concrete pavements – the first ever constructed on a Main Roads WA project.
The JV's expertise was subsequently recognised when it became a finalist in the Engineers Excellence Award (WA) in the Environment and Innovation category. The team's approach was also very well-received within the local community.
Widening and all associated upgrade works to the 4.5km stretch of busy urban freeway between the Leach Highway and Roe Highway interchanges on the Kwinana Freeway in Perth, was also delivered as a design and construct contract by the Highway Construction team, in close consultation with the design team from ARUP.
Significantly for Highway Construction, the award of this contract in May 2011 marked the company's largest wholly managed design and construct contract in its 30 year history. The project was also highly commended by the judges in the CCF Awards in 2013. The judges said that despite not winning in its category the project deserved a highly commended for delivering "a very challenging project completed very well by a competent team."
Design and Construct contracts are broadly characterised by:
Collaboration with the primary design partner to provide effective innovative solutions;
A partnership based approach with the client to meet asset owner desired outcomes;
Stakeholder & Community Engagement management to enhance client reputation;
Ability to deliver to schedule & to budget; and
Managing project costs with limited risk to the client.